Ever wondered why your resume might not be getting the response you want? Consider doing a resume audit to assess the image your resume projects and if it is hindering your job goal success.
To undertake a 'resume audit' map out all your recent jobs, nothing more than 5 years old unless extremely relevant, and create a visual graph of what your career path looks like? Compare your roles with similar roles in the job market to ensure you gain an insight into the average salaries for each role, within your market.
Once you've conducted the audit…what do you see? At times, a person's role title can grossly miscommunicate what tasks and responsibilities you actually did.  For example, an Administration Assistant working in an independent business may have high responsibility in managing total office coordination, liaising with all internal and external customers including suppliers and manage general admin and banking duties.  When you think about the 'actual' duties you are doing, it is quick to see that role titles can sometimes undervalue the role.
An example of a recent resume audit we did for a client of ours demonstrates how her resume may have been disadvantaging her and her potential job success. Our client was keen to secure a Project Officer role with an average salary of $55K.  From the audit, you can see that her resume may have been communicating a level well below the requirements of a Project Officer Level.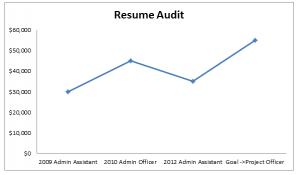 So what can you do once you identify potential gaps and 'red flags' from your audit?
Focus on creating a resume that is skill based and focuses on what you've actually achieved and can demonstrate through outcomes and transferable skills.   If you refer to the example above, we tailored our client's resume to  focuses on skill based evidence and highlighted key experiences and skills gained in these roles.  As you can see, when you clearly articulate what skills you 'do' have, you greatly increase your level and career progression potential.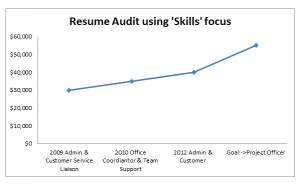 Don't let your resume hinder instead of help you! Allow WER to get you back on track to your goals and secure the job you've always wanted, contact us today.